There's something special about sharing an activity like biking with your partner. It's an opportunity for you to get outside and enjoy the fresh air, while also getting a chance to bond with your partner. Hence we ask, which are the best bikes for couples?
However, there are some major challenges that come with being in a partnership and trying to do activities together.
You don't want to strain your relationship by constantly disagreeing about where to go and what type of activities you should do together. If you're dating someone new, it can be awkward trying to coordinate your schedules so you can go on date nights.
An even bigger challenge is trying to find activities that both of you will enjoy as a couple. Luckily there are plenty of ways to make sure you and your partner have the best time biking together! No matter if you're dating or married, these are the best bikes for couples out there:
Why Couples Should Go Cycling Together
Cycling is a great way to bond with your partner. You can get outside and enjoy the fresh air, while also getting a chance to talk and have fun together. If you have a spouse who's not in the best of shape or you don't want to be biking for hours on end, then cycling together is a great alternative.
You'll still get to enjoy being outside, but maybe won't be biking for as long. If you live in a city with lots of hills, then another perk of cycling together is that it can be easier than biking alone. It can be difficult to do activities alone if you live in an area where there are hills everywhere.
With your partner, you'll be able to take turns pedaling up the hill so it's not as much work for one person. No matter what type of bike you choose, cycling together will definitely make your relationship stronger.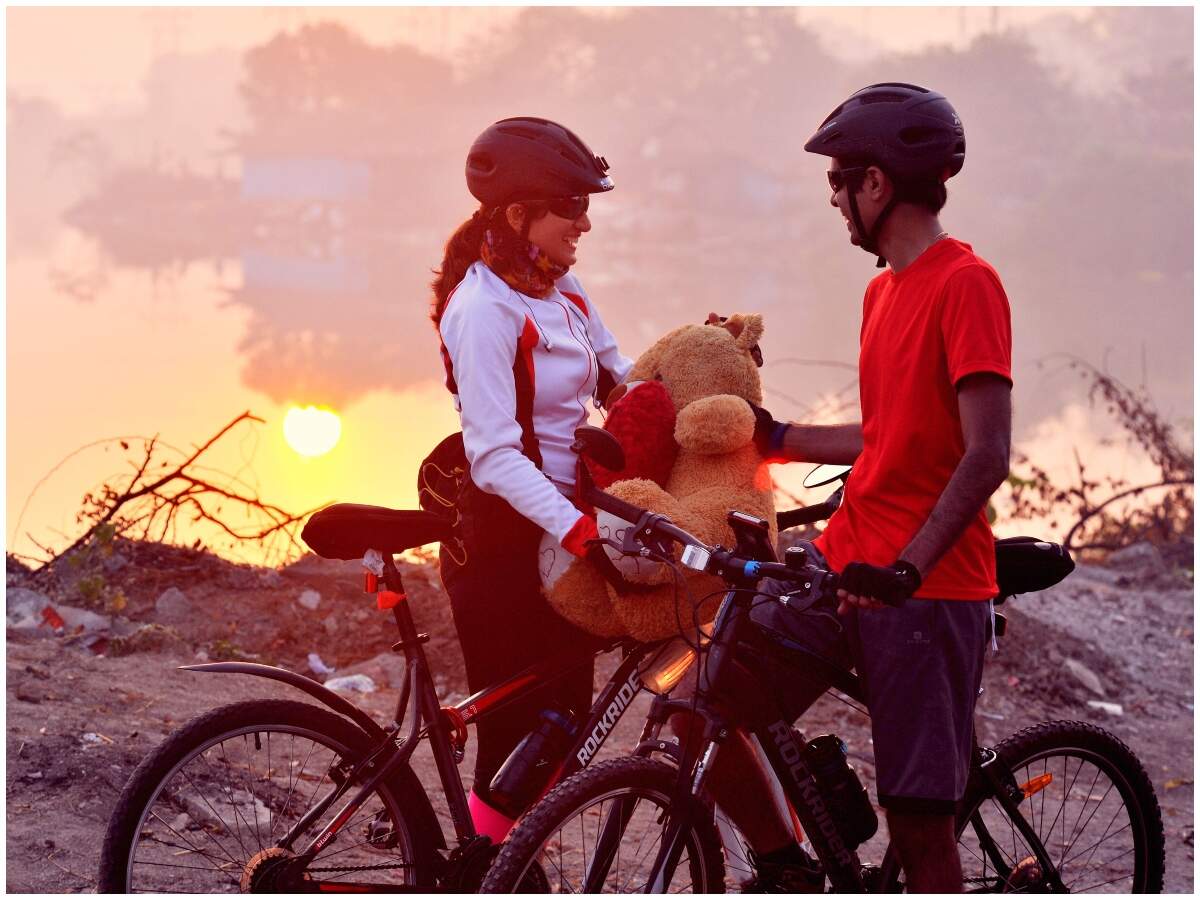 Fitness and cycling are two passions that continue to bring people together. Whether you're new to the world of biking or have been riding for years, there's no denying that this sport creates an opportunity for couples to spend quality time together.
However, as you might know, there are many different types of bikes available on the market today. This can make the process of finding the right bike for your personal needs a bit overwhelming. If you and your partner are interested in becoming a couple who cycles together.
Trail bikes for couples
Trail bikes are more rugged, with a relaxed geometry to be able to handle all types of terrain. These types of bikes are designed for off-road use and will offer you added stability. They're also great for taking on difficult climbs as the suspension will absorb some of the bumps and impact from riding.
Dual-Sport Bikes For Couples
Designed for off-road use, dual-sport bikes are perfect for couples who enjoy exploring outdoors. These bikes have a wider tire size and can handle more rugged trails. Dual-sport bikes typically come with a front shock which is great for reducing the impact of bumps in the road.
Dual-Sport Bikes For Couples Dual-sport bikes are perfect for those wanting to ride on graded roads or trails with steep inclines and descents. The bikes typically come with a gear ratio that can cover speeds from fast to slow, making them an excellent option for cruising or climbing hills.
Dual-Sport Bikes For Couples The best dual-sport bike for couples is the Kawasaki KLR650 Dual Sport Motorcycle. This bike features disc brakes and hundreds of aftermarket accessories which can be purchased separately.
Best Mountain Bikes For Couples
Mountain bikes are a great option for couples because they can handle rugged terrain and provide a more comfortable ride. For mountain biking, there are several good options for couples, including: -Pivot Mach 6 Mountain Bike -Scott Genius 27.5+ Mountain Bike -Giant Trance Advanced 29er Mountain Bike -Cannondale Scalpel SE2 Mountain Bike
Best Commuter Bikes For Couples
The type of bike you ride to work can have a lot of impact on your commute. You'll want a bike that's comfortable, easy to maintain, lightweight, and offers gears that make it easier to tackle any terrain. A commuter bike is the best option if you plan on riding to work.
A commuter bike will have either three or seven gears that are controlled by a shift lever located below the handlebars. The frame will be made from aluminum alloy or steel and the tires should offer excellent traction so the rider won't slip when pedaling uphill or over wet surfaces.
These bikes are also known for their durability, which allows them to last for years with minimal maintenance. An upright position is more comfortable than a more aggressive racing seat and it's often easier for beginners to get accustomed to. If you spend hours in your saddle every week, this type of bike will feel less stressful on your back and legs.
Another perk? Commuter bikes are typically quite affordable.
Best Hybrid Bikes For Couples
The hybrid bike is one of the best bikes for couples, because it can be used for both urban and rural areas. The frame is usually made from aluminum or steel, which helps make it lightweight. These bikes are easy to push up hills and don‭'‬t usually require a lot of maintenance.
At the same time, many people like how the upright seating on these bikes allows them to ride more comfortably for long distances. If you and your partner plan on cycling together for long distances, this might be a good option.
One of the most popular types of hybrid bikes is known as the "comfort bike." Comfort bikes are mostly used by people who are just starting out in cycling or who have back or neck problems. The seats on these bikes are typically flat rather than curved like they would be on other types of hybrids and they're generally wider as well.
This construction helps make comfort biking easier on your body while also making it easier to use than other models.
Best Women's Bikes For Couples
There are a variety of bikes for women that are designed to be perfect for couples. Finding the right bike for you and your partner doesn't have to be a hassle. Take, for example, the Schwinn Discover Women's Hybrid Bike.
This bike offers a sleek design and comes with seven speeds to help you conquer any terrain when riding together. The frame is strong and comfortable so you can ride longer without getting tired. Are you looking for a cyclo-cross bike? If so, then check out the Raleigh Cadent 1 Cyclocross Bike.
This bike is lightweight and has quick release wheels that make it easy to get on and off when riding with your partner. It also has sturdy tires with puncture protection so you don't have to worry about getting delays due to flat tires while cycling together.
If you're looking for the perfect bike to share with your partner, these 10 best bikes offer simple solutions that will make cycling more fun.
Best Road Bikes For Couples
Road bikes are fast, sleek and just as fashionable as they are functional. These types of bikes have been growing in popularity with couples for a number of reasons. One of the most popular reasons is that road bikes are easy to carry around.
They're also easy to pedal, which can make the ride more fun for couples who may not be used to cycling or who might want to cycle together without feeling too competitive. The other reason these bicycles are so popular with couples is because you don't need any special equipment or clothing.
The only thing you need is an open road, which many people have access to these days. So if you and your partner are looking for a bike that will help you get fit together, consider purchasing a road bike today.
Which bike is best for girlfriend?
The best bike for your girlfriend will depend on her level of experience. If she's an experienced cyclist, she might prefer a road bike with more speed and power. If she's a beginner, a hybrid or mountain bike might be more appropriate.
Regardless, the most important thing to remember is that she should participate in the decision-making process of selecting the bike.
Can a girl ride Royal Enfield?
If you're looking for a bike to ride with your partner, the Royal Enfield may not be for you. Why? Well, this classic bike has been noted as being better suited for male riders because it is a heavier bike and is more difficult to control in comparison to other bikes on this list.
The Royal Enfield was first introduced in the early 1900s, and since then it has maintained its popularity. The company that manufactures these bikes is located in Chennai, India, and produces them by hand. The Royal Enfield offers classic styling with modern features such as an automatic clutch and a five-speed gearbox.
If you want to purchase a Royal Enfield, they are available at many different motorcycle dealerships around North America.
What to Look for When Shopping for Bikes
When shopping for bikes with your partner, there are a few things you should consider. The first thing to look for is compatibility. If you and your partner have different needs or preferences, then you may not find the perfect bike together.
You want to make sure that the bikes have similar features like suspension and gears. You also want to make sure that both partners will enjoy the activities they're doing together. For example, if one of you loves mountain biking, but the other doesn't enjoy it as much, you won't be able to find a middle ground on which bike to purchase. Another thing you should look for is durability.
It's important that both partners feel comfortable riding their bikes without worrying about breakages or issues down the line.
Road Bikes
Road bikes are one of the most popular bikes out there. They're perfect for biking with your partner because they offer a smoother ride, making it easier to pedal together. Cycling at slower speeds is also easier on the body and will keep you from straining your muscles or getting worn out.
If you're considering road bikes for your couple, there are plenty of different options to choose from. Depending on how often you plan on biking together and how much money you want to spend, there are many different models that will work best for your needs.
You can start by looking at budget-friendly models like the Diamondback Insight 2.0 Men's Road Bike, which has a weight limit of 275 pounds, making it a good choice for heavier couples. Another model is the Schwinn Avenue A2 Women's Bike that comes in eight different color combinations so both partners feel included.
Mountain Bikes
Mountain bikes are the best for couples because they're versatile. They can be used for a variety of terrain, from mountain biking to commuting. Mountain bikes are designed to handle rugged terrain, so they're perfect for biking in the woods or exploring the trails.
Mountain bikes come with advanced suspension and a wider tire tread, which will allow you to travel more comfortably on bumpy terrain. It's also great for couples who want to get out and explore new places; mountain bikes are versatile enough to take on any adventure.
E-bikes
E-bikes are a great option for couples looking to bike together. With an e-bike, one person can use the battery to power the bike while the other pedals. This means that you can reduce your strain on your relationship and both get a chance to do what you like best.
If you want a little bit more of a challenge, try electric mountain bikes. These bikes have bigger tires and more gears so it's a little bit tougher.
Folding Bikes
If space is an issue for you, then a folding bike is a great option. It folds up easily and takes up very little room in your home or apartment. This is perfect for couples who live together in small apartments and don't have much outdoor storage.
Folding bikes come with the added bonus of being lightweight, so you can carry them on public transportation if needed.
Co-ed Bikes
The Co-ed bike is a great option for couples who want to do their activities together but don't want to spend a lot of money. The bike can be used by two people at the same time, which means that couples can go biking together and work on their fitness goals.
It has plenty of features for both people, like grips for your hands and a seat for you to sit on. The price point is also something worth considering if you're looking for a cheap way to enjoy biking with your partner. You can find these bikes online or at retail stores around your area.
FAQS
Do you have to ride side by side?
No. You're free to go your own speed and enjoy the scenery at your own pace.
What are the best bikes for couples?
There are lots of different types of bikes that work great for couples. You can go with a tandem bike, which is what most people think of when they think about biking with your partner. These bikes let you bring along a child or friend too. If you want to stay in the same pace, consider getting a bike that has seats at the same height, like an old-fashioned bike from days past. Or if you prefer to have more space between one another, try a cruiser-style bike with seats set further apart.
How do I keep my bike from shaking?
One problem that some people encounter when biking together is shaking. In order to avoid this problem, make sure to set up your bike so that it's as level as p6ossible while still maintaining your desired distance between seats. You can also install a suspension seat post or springs on the front and back wheels to help absorb bumps in the road. You could also get mountain bike tires to reduce vibrations on rough terrain or potholes.
Conclusion
With all of the different types of bikes out there, it can be difficult to figure out which bike is the best one for you and your significant other. To help you decide, we have put together a list of pros and cons of each type. Road bikes: these are the fastest bikes, but they are also the most expensive.
If you are looking for speed and style, this is the bike for you. Mountain bikes: these bikes are built for off-road biking and are the most versatile. They can handle a variety of terrain and are affordable. E-bikes: these bikes are a great option for people who want to ride together but have different biking speeds.
They use an electric motor to propel you forward and can get you up hills easily. Folding bikes: these bikes are perfect for those who live in a city or have a small apartment. They can be stored in your closet when they're not in use and they come with a carrying strap, so they are easy to transport.
Co-ed bikes: these bikes are a great option if you have children or pets that will be joining you on your rides. They have a large front basket and can also